There are endless options when it comes to how you want your home landscape to look. There are garden styles that come from all parts of the globe, and maybe, just maybe there's one for you. Below you'll see we've accumulated some of the most popular garden and landscape styles for you to enjoy, and maybe even gain a little inspiration from.
Traditional
Traditional gardens are usually created around a series of garden rooms and a larger lawn. They feature abundant and bright colored perennial borders that create a contrast with a well-maintained lawn and hedges. Many traditional landscapes also include other elements such as a built-in grill, fire pit, or outdoor games.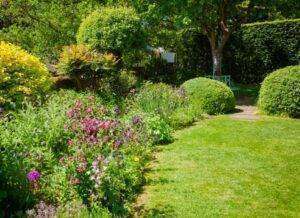 Japanese
The Japanese style is rooted in aesthetics, contemplation, and meditation. The design is based heavily on different elemental aspects like water, rocks, sand, lanterns, bridges and gates, trees, and flowers. There are different styles such as zen gardens where fine gravel or white sand is used to replace water, or stroll gardens where the owner or visitors follow a path leading around the garden to observe a very meticulously composed garden.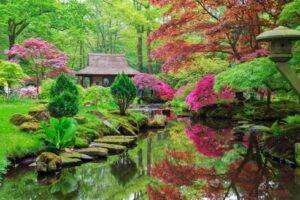 Mediterranean
These gardens are built around a fountain centerpiece to celebrate the sight and sound of water. They also feature a tiled patio, using vines and other brightly colored plants to provide shade for visitors. The main plants you'll find here are Agave 'Blue Flame', Purple Verbena, Crocosmia, and Californian Retreats, most of which are able to survive and flower for all twelve months of the year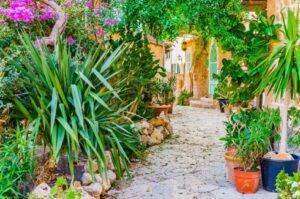 Informal and Cottage
These gardens are defined by abundant planting and vibrant colors. The layout of these gardens are simple, usually containing a narrow gravel-surrounded path, hedges, and rose arbors. These arbors act to split the garden into different spaces and atmospheres, giving the opportunity to plant a variety of vegetation.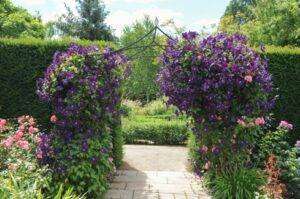 Modern
Lastly, the modern style is characterized by sharp vertical and horizontal lines and is based heavily on geometry and scale to add flare in the absence of decorative ornaments. There is more of a focus on the architecture than on the plants, mostly smooth concrete for walls and limestone or slate for floors. The plants are generally limited to specimen trees, clipped hedges, lawns, and other simple plants. These plants include Ferns, Hostas, Geranium, and Agapanthus.
We hope that this guide to different landscape styles was able to help inspire you to start creating the garden of your dreams. We at Supreme Enterprises, LLC. are able to assist you with your landscaping design and installation needs. To get started, contact us today through our website or give us a call at .